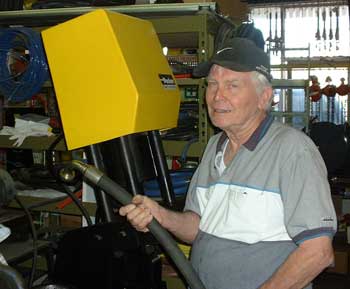 Founder Allen A. Olson
Point of contact:

Paul Olson, President
Construction and Rigging Supply, Inc.
1427 Los Angeles Avenue
Ventura, CA 93004
Work Phone: 805-647-4792
Fax Phone: 805-647-6914
Contact us by email
eMaterialhandling.com is a virtual store and product catalog pages for Construction And Rigging Supply. Inc. which is located 50 miles north of Los Angeles County and south of Santa Barbara County, on the west coast of the United States of America.. The corporation was Founded/President by Allen Olson. in August 1967. Allen Olson passed away in 2013. His legacy continues to a second generation by his son, Paul Olson.
Our warehouse is centrally located in Ventura County, CA. U.S.A.


We are authorized stocking distributors for many major industrial manufacturers such as Parker Hannifin, Gunnebo/Johnson, Liftall, Columbus McKinnon, Dixon Valve and Coupling, Klein Tools, WireCo Wire Rope, Uniweld Products, Lug-All, National Spencer, Pearl Abrasives, and many others....
Parker Hannifin distributor:
Parker hydraulic hose, Parker Hose fittings, quick couplers, hydraulic adapters and thermoplastic hydraulic hose.
Gunnebo Johnson:
Lifting hook, lifting chain

, block sheaves, crane blocks, wedge sockets, snatch blocks, and crane blocks.
Liftall:
Web slings, Liftall Tuflex Roundslings, cargo control ratchet assemblies.
Columbus McKinnon:
CM chain hoist, clevis hooks, chain grab hooks, sling hooks, chain binders, and other material handling hardware.
Other suppliers:
Dixon Valve and Coupling, Pengo

, Uniweld Products, National Spencer, Pearl Abrasives, Hanson Drill Bits, Wireco, Rolotape, and many others...
Other material handling supplies:
Stainless steel cable,

wire rope cable, cable swaging, asphalt hand tools, asphalt lute, hand shovels, squeegee, contractors street brooms, push broom, water hose, digging bars, jack hammer tools, industrial safety signs, gloves, grease fittings, gas pumps, industrial abrasives, tree climbing equipment, arborist rope, tree spikes, truck chain and binder, stainless steel hooks and chain, Howard Leight ear plugs, ear muffs, safety eye glasses, construction hard hat, protective breathing mask, pressure washer hose, grade 8 bolts, all thread rod, camlock hose fittings, fire hose adapter, fire hose, traffic safety cone, delineators, safety flag, construction safety vest, tie down chain,
g and j hooks, electric winches.
Finally, we are uniquely organized. We can custom assemble hose, chain,
wire rope and nylon slings to your specific needs. Many times shipping out those assemblies that very day to anywhere in the United States, Canada and Mexico. UPS, Federal Express and ground freight carriers are all options available.
Web site comments or errors please notify : Webmaster